各种彩涂板表面腐蚀的详细分析
天物彩板专注彩板行业16年——河北粉末喷涂彩板品牌有哪些_粉末喷涂彩板生产厂家_天物粉末喷涂彩板请拨打网站上方电话咨询
镀锌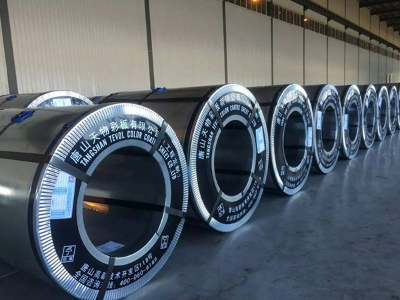 镀层纯度高,同厚度镀层的耐蚀性优于热浸镀锌制品。经测试,一微米涂层的防锈时间为电镀锌12小时,热镀锌10小时以下。然而,要获得厚的电镀锌层是非常困难的(高功耗、高成本、高技术难度)。电镀锌作为一种彩色涂层基材,也主要用于家用电器、钢制家具、门窗等。
线圈涂层的配方通常包含几个成分,通常使用的原材料有:
颜料着色颜料、防锈颜料、物理颜料;
树脂:聚酯、高耐候聚酯、硅改性聚酯、环氧树脂、聚乙烯、聚氯乙烯等;
溶剂:芳烃、酯类、醚类等;
助剂:消泡剂、分散剂、助剂、表面活性剂等;
其他:催化剂、有机或无机填充剂、功能助剂(导电材料、助剂等)。
涂料要成分是树,树脂是涂料配方中的基料。根据涂料的不同,涂料可分为底漆、面漆和背痛三类
底漆:底漆可分为聚酯底漆、聚氨酯底漆、环氧底漆等,根据用户的不同需要,可选用不同的底漆。常用的是环氧底漆和聚氨酯底漆,用锌铬黄、锶铬黄等防锈颜料加工制造。
面漆:一般采用聚酯树脂、高耐候聚酯树脂、有机硅改性聚酯树脂、树脂、聚偏二乙烯树脂、聚氨酯。热固化交联固化体系采用甲醚树脂或封闭树脂,选用耐高温耐候颜料。
背漆:目前国内分为2/1、2/2、2/1m三种体系。2/1系统背面可刷底漆一道或只刷背漆一道,主要用于夹芯板,要求涂层具有良好的粘结和发泡性能。2/2体系采用底漆和背漆两种涂装体系,一般不要求发泡性能,用作单板。一般采用2/1m体系,底漆3μm,背漆6μm,可代替2/1,背漆可发泡。
聚偏氟乙烯氟碳涂料
PVDF含氟树脂涂料(含氟率≥70%)始于20世纪60年代,经过60多年的实际应用,证明其耐候性非常优异,这与目前的线圈涂料不同,含氟聚合物也具有很高的化学性能。
PVDF树脂具有抗紫外性能,但本身不能阻挡紫外。它需要在涂料中使用颜料来阻挡紫外线,这样底漆就不会被紫外线侵蚀。因此,所使用的颜料必须具有优异的耐候性和耐化学性,并能经受20-30年的室外曝露。大多数有机颜料在阳光和大气的作用下会降解或褪色,而无机高温煅烧的金属氧化物颜料具有较好的化学性能,适合长期保护。
近年来,以三氟氯和酯为单体共聚的含氟树脂在我国得到了广泛的应用,广泛应用于建筑外墙和金属板中。由于酯单体和易水解氟的含量低于PVDF,其耐候性与PVDF有一定的差距
HDP高耐候聚酯涂层目前,普通聚酯涂层主要用于建筑色板。使用8-10年后,涂层会逐渐失去光泽、保护和装饰。在高耐候性聚酯(HDP)树脂的合成中,使用环己烷结构的单体来实现树脂的柔韧性、耐候性和成本的平衡。采用不含基团的多元醇和多元酸吸收树脂的紫外光,达到涂料的耐候性。在涂料配方中加入紫外线吸收剂和HALS。
Zinc electroplating
The purity of the coating is high, so the corrosion resistance of the coating with the same thickness is better than that of the hot-dip galvanizing product. According to the test, the red rust resistance time of one micron coating is 12 hours for electro galvanizing and less than 10 hours for hot galvanizing. However, it is very difficult to obtain thick electroplated zinc coating (high power consumption, high cost, and technical difficulty). As a color coated substrate, electroplated zinc is also mainly used in household appliances, steel furniture, doors and windows, etc.
The formulation of coil coating usually contains several components, and the raw materials generally used are:
Pigment coloring pigment, antirust pigment, physical pigment;
Resin: polyester, high weather resistant polyester, silicon modified polyester, epoxy, poly, PVC, etc;
Solvents: aromatics, esters, ethers, etc;
Auxiliaries: defoamer, dispersant, agent, surfactant, etc;
Others: catalyst, organic or inorganic filling agent, functional assistant (conductive material, agent, etc.).
The main component of the coating is resin, which is used as the base material in the coating formulation. According to different coatings, coatings can be divided into three categories: primer, finish and back pain
Primer: the primer can be divided into polyester primer, polyurethane primer, epoxy primer, etc. according to the different needs of users, different primers can be selected. Commonly used is epoxy primer and polyurethane primer, with zinc chrome yellow, strontium chrome yellow and other antirust pigment processing and manufacturing.
Topcoat: generally, polyester resin, high weather resistant polyester resin, silicone modified polyester resin, resin, polyvinylidene resin and polyurethane are used. The heat curing cross-linking curing system uses methyl ether resin or closed resin, and pigments with high temperature and weather resistance are selected.
Back paint: at present, it is divided into 2 / 1, 2 / 2 and 2 / 1m systems in China. The back of 2 / 1 system can be painted with one primer or only one coat of back paint, which is mainly used for sandwich panel, and the coating is required to have good bonding and foaming performance. 2 / 2 system adopts two coating system of primer and back paint, which generally does not require foaming performance and is used as single board. 2 / 1m system is generally applied with 3 μ m primer and 6 μ m back paint, which can replace 2 / 1, and the back can be foamed.
PVDF fluorocarbon coating
PVDF fluorine-containing resin coating (≥ 70%) started in 1960s. After more than 60 years of practical use, it has been proved that the weather resistance is very excellent, which is different in the current coil coating, and fluorine polymer also has very high chemical properties.
PVDF resin has UV resistance, but it can't block UV by itself. It needs to use pigments in the coating to block UV, so that the primer won't be eroded by UV. Therefore, the pigments used must have excellent weather resistance and chemical resistance, and can withstand 20-30 years of outdoor exposure. Most of the organic pigments will degrade or fade under the action of sunlight and atmosphere, while the inorganic high-temperature calcined metal oxide pigments have relatively better chemical properties and are suitable for long-term protection.
In recent years, fluorine-containing resins copolymerized with trifluorochlor and ester monomers have become popular in China, which are widely used in exterior walls and metal plates of buildings. Because the content of ester monomers and fluorine which are easy to hydrolyze is lower than PVDF, there is a certain gap between their weatherability and PVDF
HDP high weather resistant polyester coatin present, the common polyester coating is mainly used for building color board. After 8-10 years of use, the coating will gradually lose light, protection and decoration. In the synthesis of high weather resistant polyester (HDP) resin, the monomer with cyclohexane structure is used to achieve the balance of flexibility, weather resistance and cost of the resin. The polyol and polyacid without group are used to absorb the UV light of the resin to achieve the high weather resistance of the coating. UV absorbers and HALS were added to the coating formulation.
P silicone modified polyester
The silicone modified polyester coil coating is modified by cold splicing of silicone resin and tight ester resin, which can guarantee outdoor weatherability for 10 years. The effective way is to directly modify the polyester resin with silicone monomer, further improve the weather resistance of the silicone modified polyester resin, so that the coating can reach the outdoor weather resistance for 20 years, and become a hot spot. In the modification of polyester resin, the commonly used organosilicon intermediate, when the content of organosilicon reaches 30% of the resin proportion, and the metal oxide pigment calcined at high temperature is used, the coating section can reach the requirements of 25 years' weather resistance, next to the fluororesin coating.